KINDERGARTEN
English Speaking Classes
The classes are led by fully-qualified teachers who are, for more support and easier adaptation, all English speaking Czech teachers with several years of experience in the field. In these classes lessons are taught in English and are based on the British National Curriculum.
Preparation for Czech primary school
Abacus English Preschool also offers "Czech Preschool Club". This is a club in Czech language meant for any children from all classes who will start their primary school the following year. It is lead by an experienced Czech teacher and takes place in the preschool twice a week (each lesson takes 45min). These lessons should help the children with their preparation for their Czech primary school.
Modern technology and teaching materials
At Abacus English Preschool our teachers use the latest modern equipment. Educational materials and books are delivered mainly from the UK. The Morning programme in the preschool is academically oriented focusing mainly on the development of language, literacy, numeracy and science.
Afternoon activities
The afternoon programme is filled with various activities, which include for example: arts and crafts, music and singing lessons, yoga, sports, and many other cool activities which we continually modify according to the children's interest. All of the activities take place in our preschool.
Free Trial Day
Spend the day with us and see what it's really like!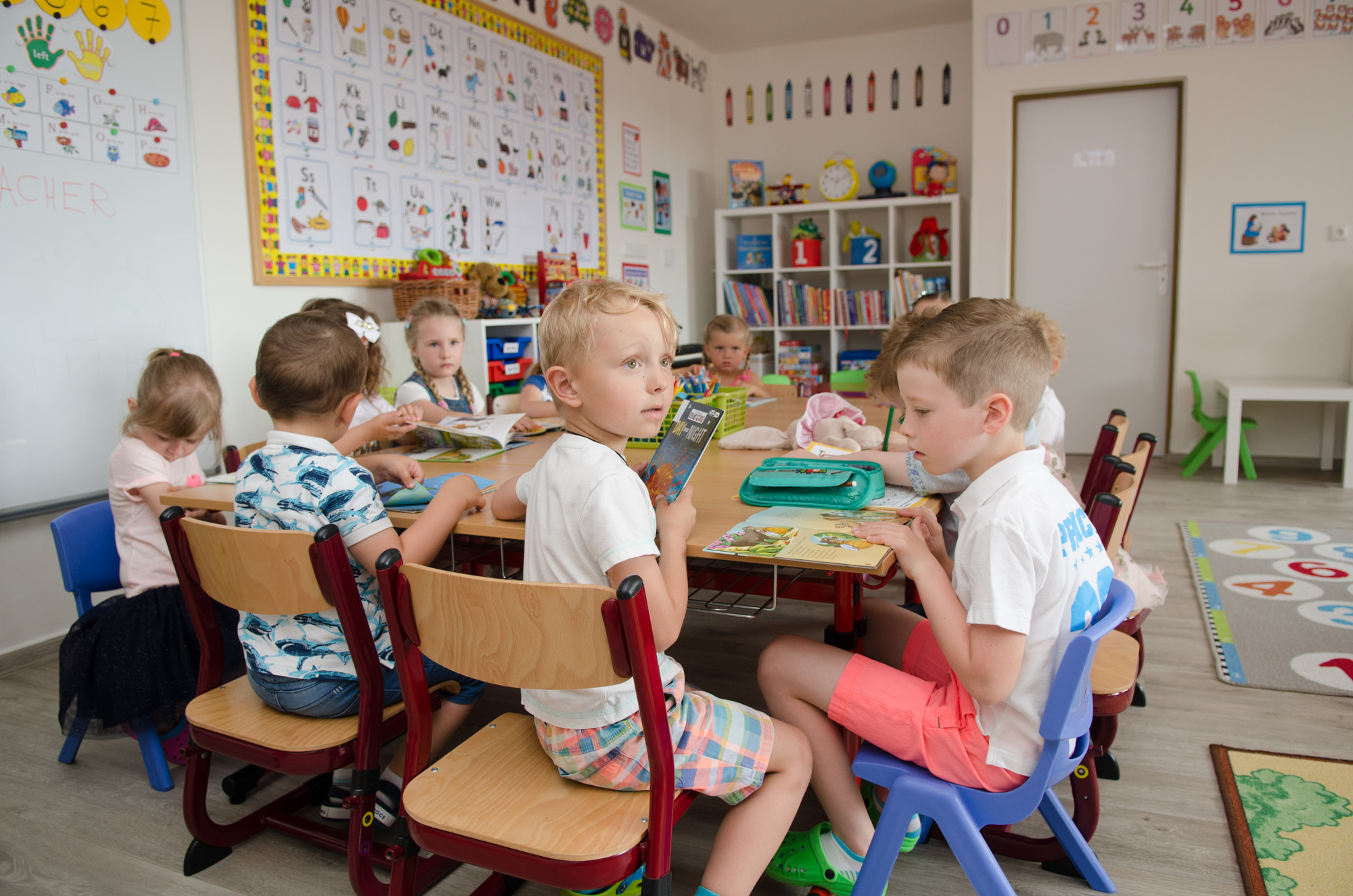 DAILY SCHEDULE
Daily schedules are developed with the following in mind:
Matching the age and abilities of the children
Outdoor time, both structured and unstructured
Blocks of time for child-directed learning
And include:
Morning and Afternoon Group Time
Small-Group Activities
Child-directed learning in learning centers
Outdoor play and activities
Snack and meals
Rest time
Here's an example daily schedule for our classroom:
Open - 8:00 a.m. ARRIVAL
Children participate in quiet activities and play in learning centers until most children have arrived.
9:00 - 9:30 a.m. CIRCLE TIME / WHOLE-GROUP TIME & READ-ALOUD
Children come together for the Morning Routine Activitiyas well as a featured whole-group activity.
9:30 - 10:00 a.m. STUDY TIME - LEARNING CENTERS AND SMALL-GROUP ACTIVITIES
Children participate in learning center activities in these learning centers: English, math, writing, creative arts, blocks and manipulatives etc. This time often includes small-group activities.
10:00 - 10:20 a.m. SNACK
10:30 - 11:50 a.m. OUTDOOR PLAY
Children enjoy structured and unstructured play outdoors.
11:50 - 12:30 p.m. LUNCH
Children wash their hands, help set tables, and prepare to eat lunch family/style.
12:30 - 12:45 p.m. TRANSITION
Children clean up from lunch and trnsition to rest time.
12:45 - 2:30 p.m. REST TIME AND QUIET WORK TIME
Some children nap or rest quietly and some children participate in creative arts activities or select from a variety of quiet activities, such as playing, drawing, looking at books and reading. This time often includes small-group activities when children choose from learning center activities in these learning centers: blocks, games, manipulatives etc.
2:30 - 2:50 p.m. SNACK
2:50 - 4:00 p.m. PLAY TIME
Children select from a variety of activities that are easy to clean up, such as playing, looking at books, drawing and enjoy unstructured play.
Up